"It's a Picnic" is a compilation of songs from several demos made in the period from january 1999 to september 2000. The record was released on Userfriendly Records (R.I.P.) in 2000. Below are three of the demos from where we selected tracks for the Picnic album. These demos where only distributed on cd-r to friends and a few radio stations. These are rare!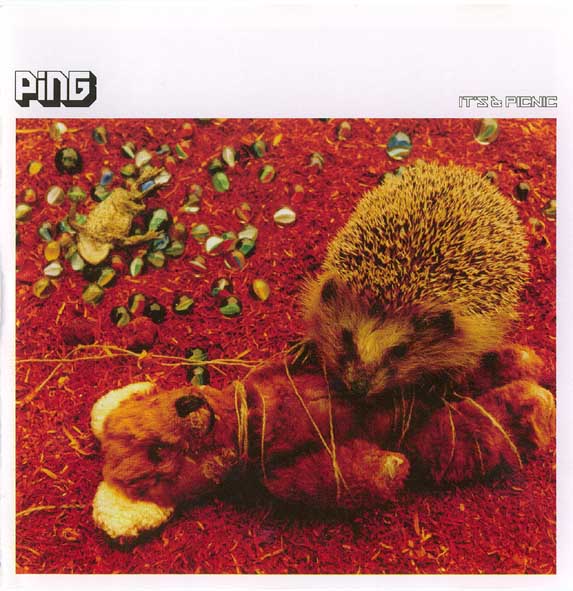 Tracks
1. Sundet Beat
2. Damn Dam
3. Big Star Poetry
4. Can't Shake the Feeling
5. Monica
6. While Waiting for the Headline
7. Pillow
8. Computer Grace Interface
9. …and is that it?
10. Can You Sing?
11. El Mundo
12. Baby Beadle Boy
13. Zyprexa
14. Spinky
15. When the Shit Hits the Fans
16. Happy Skull
17. In Water Melon Sugar
18. Uncle Bubbles
19. Franz
A review
"Der Zappa til tider gikk seg vill i soloer, instrumentalt flisespikkeri og satirisk visvas, har Ping i stedet basert seg på sløye rytmer, underfundige vendinger og fremfor alt – strålende popsanger. Det låter på mange måter litt Beck, omtrent samme dosering av støy, space og funk. I det hele tatt er det snakk om et kreativt oppkok av dimensjoner." (Natt og Dag om "It's a Picnic" – nest beste karakter)
Manatlake (January – April, 1999): demo
The very first collection of songs made by Ping. All composed and recorded in Lovezero studio, meaning a 4-track fostex tape recorder in one of our bedrooms.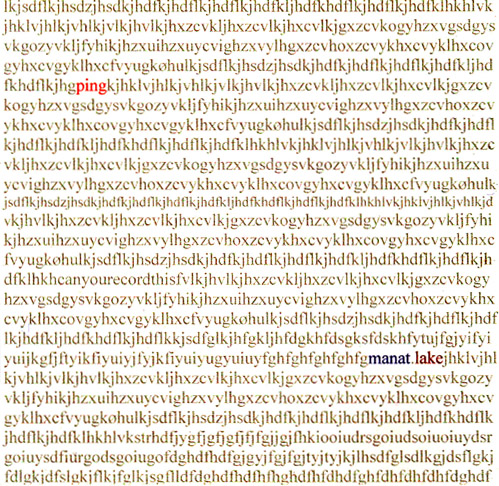 Tracks

1.

Muck and Good Luck (OGG)


2.

From Another Point of You (OGG)


3. Blue Velvet Robe
4. …and is that it?
5.

Pretty Dolls and Fireballs (OGG)


6. City of Ping
7. Dekk Dekk
8. The Raft
9. Peak Around the Low
10. Mr. Will Be
11. Smooth Like an Octopus
12.

Demon Enemy (MP3)


13. Camels
14. Computer Grace Interface
15. In Water Melon Sugar
II (April – June, 1999): demo
The coverart is a illustration from a keyboard manual. We're now recording on an 8-track digital recorder. The possibilities!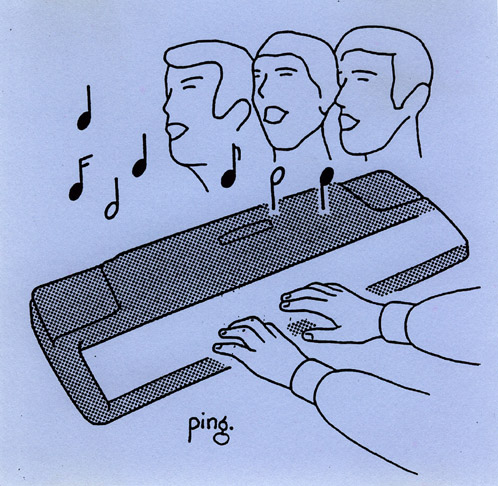 Tracks

1. God Mad
2.

Barrels


3. Discotheque of Darkness
4. Baby Beadle Boy
5. Monica
6. Pillow
7.

Babygottago


8. El mundo
9. Stay by the Flames, Wulvin!
10. A New Burp
11.Uncle Bubbles
Tree (September 1999 – February, 2000): demo
Recording on a 12-track digital recorder! What can stop us now? An impossible amount of homemade wine was consumed during all these recording sessions.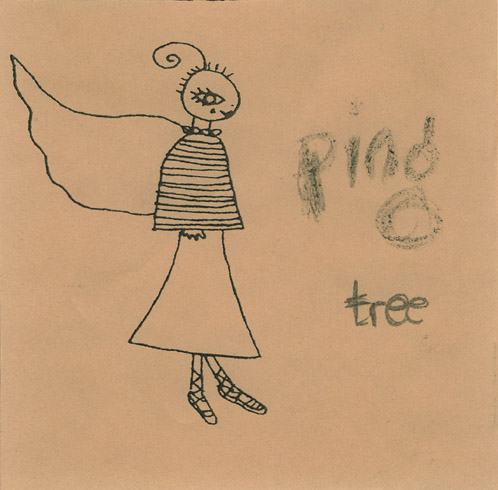 Tracks

1. Spinky
2. Damn Dam
3. Bop
4. While Waiting for the Headline
5. Flux
6. Buried Under the Tree
7.Happy Skull
8. Big Star Poetry
9. Into the Night
10.

Mother Compression (OGG)


11.

The Lies in your Head (OGG)