Fellow spacemen – due to incongruency in the flux capacitor the Ping news feed has been dormant for a while. Now, equilibrium restored, the saga continues with Janus-faced tidings.
Long time donor of organ sounds Norm Fredheim Hanson has abdicated from stardom, in support of his wife's dairy productions. A striking blow to the band's keyboard section, as well as an increase in average body mass index of the troupe. Fortunately Norm Hanson has promised to reappear suddenly and infrequently, both in studio and on stage.
What could have become a hole in the band's wall of sonus however, seemed like a most fitting position for none other than Norm's best man – Thomas Haugbro, Esq. Axe grinder Thomas, Esq. has already joined forces with Ping on stage several times during the past couple of years so his inclusion was a natural development in the Ping saga. We are most pleased to have Thomas, Esq. on board and we're confident that his affection for 70's guitar grooves will bring a new dimension to this musical complexion.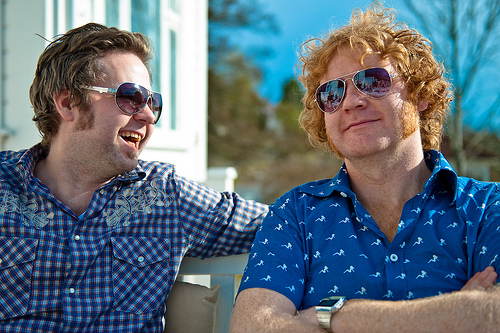 We are also happy to announce that Ping is pregnant with a new record! Temporarily titled "The Gazebo of Malevolence", we suspect it will be a chart breaker that will dispel any financial worry, both for the band and the listener! Now, doesn't that sound like a deal? Popular hits include "I put a smell on you", "Leave your lame and your lumber" and "Ave Pingus – the monkey goes bananas". Stay tuned and we might just give you an audible low down.